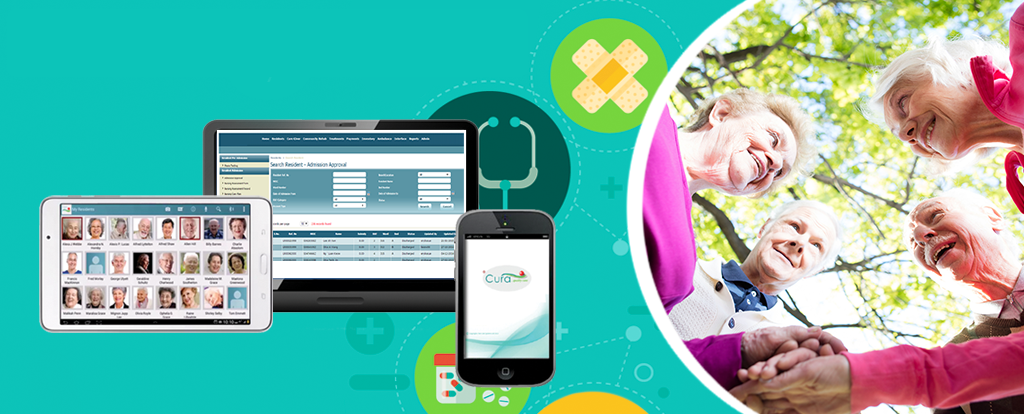 Cura Systems is the leading innovator in care home management systems, creating the most comprehensive software in the market with the widest functionality.
Cura Systems offers an affordable suite of software applications, each built with a specific purpose that supports CQC compliance and evidence leading to improved care outcomes. Digital care support is freeing caregivers to focus purely on the well-being of their residents. Let's make the person-centred approach a reality. 
How Cura works:
Cura Web has been designed with care managers and care administrators to provide a full suite of modules that deal with every aspect of care home administration.
Cura Tablet is specifically designed for the care workers to use at the point of care delivery. It provides all the relevant care information and resource to support the care worker to provide efficient care.
Cura Mobile Apps - Cura Kin and Cura Angel, conveniently and securely connect to friends, family and other service providers.
Key Benefits
Save time and effort through an integrated system

Enables regulatory compliance

Reduce manual data entry & real-time updates

Enables compliance with industry standards

Reduce time to access information through mobile technology

Less time spent retrieving charts, forms and documents

User-friendly interface through mobile technology

Alert and notifications to improve point-of-care delivery

Increased time available for care

Easier and more flexible reporting

Achieve users & residents satisfaction

Improved caregivers handover
Concept of Care Delivery
Strong focus on managing point-of-care-delivery

Focus on satisfactory outcome for all recipients of the services provided in line with internationally recognised practices

Care Recipient-Centric

Takes care of their health, emotional and social wellness

Respect resident's preferences and offer choice from food to activitieS (feel secure, happy, contented and at home)

Care plan may include descriptions of residents' daily routines and activities, their likes and dislikes and any other specific needs

Information to enable management checks where concerns are raised over these standards